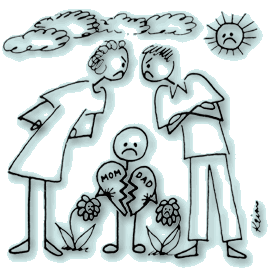 I am at the stage in my life where I am accepting applications for 9jaboy4real, if you are interested email me at [email protected] (only serious applications will be accepted, LOL!!). In a few years, I will be married and have children (by God's grace). Even though, I am not yet married I am always thinking about what's best for my children. What's best for my children guides a lot of my decisions because if I like it or not; the decisions I make now will affect my children positively or negatively. I don't want my children to suffer for the poor decisions I make in life.
I went to college with a guy who said that his dad lived down the street from his house but he refused to walk a few blocks to come see him. I saw the pain in that boy's eyes from that day, I decided I'd never make a careless decision that will jeopardize my children's happiness. I grew up with both my parents so I don't fully understand what it means to only have one parent and rejection by another parent. I have heard of enough stories of children who felt abandoned by their father and I can't imagine the emotional pain they go through every day. In life you can't control what happens to you most of the time but what I can control I will.
Statistics are against children from broken homes. I have seen how broken families mess up children and I don't want to put my children through that. Divorce affects the children more than it affects the parents. For the sake of my children, divorce can't be an option.
Don't get me wrong in the presence of verbal or physical abuse; divorce has to be an option because I need to stay alive to take care of my children. African women will do anything for their children and I am no different.
I don't want to bring my children into an emotional mess. Each child deals with divorce in their own way. It is not God's will for my children to be born into a broken home. My children deserve the right to have parents walking side by side to give them a better future.
To 9jaboy4real (whoever you are): Divorce is NOT an option!!!!!!!!!!!!!!!!!!