On a fateful Saturday when the Super Eagles were preparing to demolish the Black Stars. I was hopeful the Super Eagles would win the game until I saw the mad skills on the Ghanaian team.
Rufus Afropong stood out on the field. Rufus played for the Ghanaian team.
Let me officially introduce you to this star. Rufus is a semi-pro soccer player from Liberia. His father is from Ghana. For those who do not know Liberia was founded by freed black slaves who returned from America. Liberia, unlike other West African countries, has its own unique history.
I pray his story you will inspire you to chase your dreams.
9jagirl4real: Hello Rufus, thank you for taking out time from your business schedule to do this interview. I really appreciate this.
Rufus: You're welcome.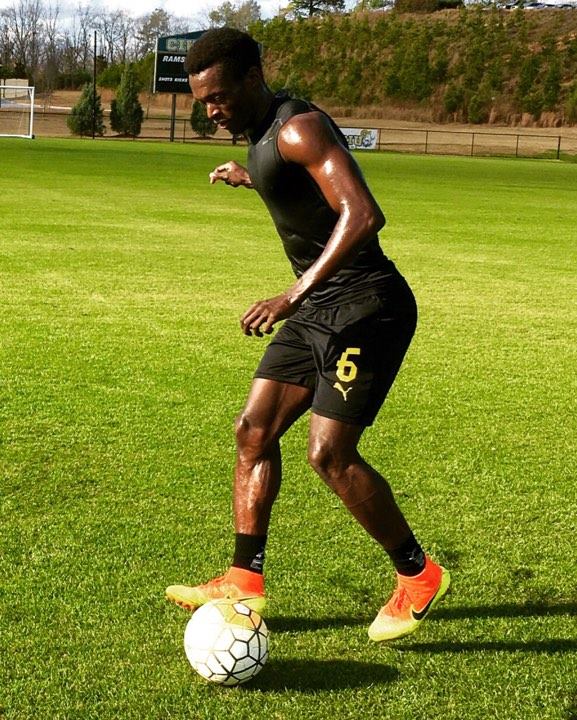 9jagirl4real: Who is Rufus?
Rufus: I was born in Liberia. I went High School in Liberia. During the (civil) war, we moved to Sierra Leone and came back to Liberia after the war. Finished my high school in Liberia. Attended a University in Liberia. My parents decided to send me to the States for college. Got accepted to a school in West Virginia. Left this university because the school lost their accreditation. The coach in West Virginia introduced me to a coach in South Carolina. Played soccer for this school for 4 years and graduated.
9jagirl4real: When did your love for soccer start?
Rufus: I started from a young age. My mother loves soccer. She bought me a soccer ball. Soccer got serious when I graduated from High School. I made the club team (premiere) in Liberia. My mother was the main force behind everything. My father wanted me to be more focused on school. He didn't change his mind until when the school wrote him and told him how me playing soccer was bringing more students to the school. My father called me and told me to also focus on soccer.
(Laughs)..
9jagirl4real: Are you pleased with this sport that you chose?
Rufus: My mother wanted me to try a different sport at a young age because of my height. I tried basketball. I was told by the basketball coach then to stick to soccer. Soccer is hard and different. Your footwork must be good. You need to have endurance. You also need to be fit.
9jagirl4real: In Liberia, you call it "soccer" or "football"?
Rufus: Football
9jagirl4real: What is the major language in Liberia?
Rufus: We speak English but different dialects of English.
9jagirl4real: What is the political and economic climate right now in Liberia?
Rufus: People are still recovering from the war ( two civil wars).
9jagirl4real: What is the difference between the Liberian culture and American culture?
Rufus: The people in American are more independent while Liberia is more like family. American culture people don't know themselves.
9jagirl4real: Does playing Fifa help you in the decision making when you play sport in real life?
Rufus: Yes, it helps you a little bit but not much. I don't really play Fifa like that.
9jagirl4real: What do you want your legacy to be?
Rufus: I don't want to leave a bad image for the kids. Kids are my focus. I am trying to help the kids in Liberia. I am supplying soccer game materials to keep their soccer dreams alive.
9jagirl4real: What does your faith mean to you as an athlete?
Rufus: It helps me to depend on God. I have seen God move in my life. Coming to the States and my college (ICU). I try to focus on God for everything. Every good thing that comes to me, I believe God did it. Whether good or bad, God knows the reason.
9jagirl4real: Tell me about workout schedule?
Rufus: I work out every day from Monday-Friday. 30min Cardio. Lifting weight. When I came to the States, I was skinny. I gained muscles when I came to the States. I made up my mind to go to the gym no matter how I feel.
9jagirl4real: What advice would you give your 16-year-old self?
Rufus: Be focused. Believe in yourself. Don't listen to other people. Work towards your goals. Things will fall into place with time. Have Patience! Pay attention. At the right time, things will happen.
9jagirl4real: Ritual before a game?
Rufus: Listen to music. Sometimes gospel music, or R&B. I watch a movie. Do other things to distract me from the game.
9jagirl4real: What Keeps you up at night?
Rufus: Passion! I want to do things to make a difference in people's lives.

Huge thanks again to Rufus.
Go team Rufus!!
Keep Soaring.